John McCain: "Lukashenka is brutal dictator. I support sanction against his regime"
13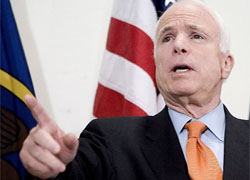 "Lukashenka is a brutal dictator. I believe America must stand up to dictators," US republican presidential candidate John McCain said at a yesterday's meeting with Nevada voters.
According to "Radio Svaboda", with reference to local press, this statement was made in response to words of a Sparks dweller. She said she was in danger of going bankrupt because she cannot continue to do business with an important partner in Belarus under recent US trade sanctions. A Nevada business owner asked McCain how he would keep his foreign policy from hurting American interests.
Answering the question, McCain said he was deeply sorry for the voter, but noted he supported US sanctions against "the oppressive rule of Lukashenka".
According to observers, McCain competitor Barack Obama hasn't touched Belarusian or Russian issues in his electoral campaign.