Human Rights Watch: Autukhovich, Lyavonau, Asipenka, Dubski are political prisoners
13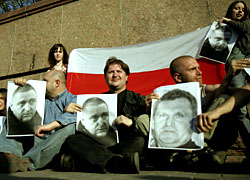 An influential international organization Human Rights Watch admits new political prisoner appeared in Belarus.
New York based Human Rights Watch issued the 20th annual report on human rights, Radio Svaboda reports.
Among a range of human rights violation in the world the influential organization states new political prisoners appeared in Belarus.
The report 2010 records an increased number of attacks on human rights activists and organizations in some countries, including Iran, Burma, China and some post-Soviet states.
According to Human Rights Watch, human rights monitors in Russia, Sri Lanka, Kenya, Burundi, and Afghanistan were murdered in 2009.
Human Rights Watch noted that some governments are so abusive against individuals and organizations that no domestic human rights movement can function, citing  Eritrea, North Korea, and Turkmenistan.
Human rights defenders in such counties as China, Iran, Colombia, Venezuela, Nicaragua, The Democratic Republic of Congo, Ethiopia, Israel, and Azerbaijan work in hard conditions.
Human Rights Watch noticed deterioration in human rights sphere in Belarus in 2009.
The report mentions four new political prisoners in Belarus in 2009. These are Vaukavysk businessmen Mikalai Autukhovich, Uladzimir Asipenka, Yury Lyavonau, and participant of the Process of 14 Artsyom Dubski. The report also writes about dispersal of several demonstrations and refusals to register two NGOs (Nasha Viasna and the Belarusian NGO Assembly) and three newspapers ("Novaya Gazeta Bobruiska", "Nasha Provintsia", and "Mahilouski Chas" for unfounded reasons.
It should be noticed that Aleh Hulak, the head of the Belarusian Helsinki Committee, and Alyaksandr Milinkevich, the leader of the For Freedom movement, deny recognize the Vaukavysk businessmen political prisoners. They say the people thrown into detention facility a year ago can be recognized (or not recognized) prisoners only after Lukashenka's trials over them.
As charter97.org has reported, Artsyom Dubski, "Young Front" activist, in July was sentenced to a year of imprisonment in a colony for violation of rules of serving the sentence under the Case of Fourteen. . In 2009, Amnesty International recognized the participants of the Process of 14 prisoners of conscience.
Businessmen from Vaukavysk Mikalai Autukhovich, Yury Lyavonau, and Uladzimir Asipenka were detained on February 8, 2009. On February 18, the entrepreneurs were charged under article 218 of the Criminal Code (intentional damage to or destruction of property of citizens). On June 23, a criminal case under article 359 of the Criminal Code (a terroristic act) in the form of preparation (article 13) was instigated against Autukhovich and "other persons".
Lyavonau was released from Minsk remand prison on August 8. On September 24, he was cleared from all charges. Autukhovich and Asipenka are still in Minsk detention facility #1.