Russian media: It's impossible to cooperate with inadequate dictator
118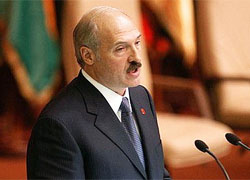 Partner relations with Belarus can be resumed only if the power is changed.
If one had any allusions regarding Russia-Belarus partnership, the future of the "union state" or appropriate state of Lukashenka, the last Monday must have dispelled them, Voice of Russia radio station reports referring to "Nizhegorodskaya Pravda" newspaper.
An interview the Belarusian ruler had given to the Polish media last week was published on Monday.
Speaking about in fact fictitious character of the "union state", Alyaksandr Lukashenka said: "Russia did not want to hold the referendum. It, excuse me, made a muck of the Union agreement."
Lukashenka said to a remark by Polish journalists about too long remaining in the post: "That's your problem. It's possible in our country and in Russia, too." The Poles noted Putin was not president of Russia any more. "Really? Who then?" Lukashenka showed his "amazement".
This "joke" looked like hardly masked discourtesy and impudence. Such jokes are for stand-up comedians and journalists, but not for presidents. Usually, they are followed by diplomatic scandals and other serious consequences.
Lukashenka is not going to meet any problems in the election camping. Russia increases gas prices, Russia raises oil duties, Russia criticized "the elected president" and tries to depose his, so it is Russia to blame for all our troubles and problems. That's how Lukashenka will explain the situation to the people.
But what then? How Brussels or Moscow will cooperate with him?
The situation is more or less clear with Brussels. Next day after the re-election Lukashenka will forget his promises regarding the country's democratization and will begin eliminating the opposition and the independent media. The angry Brussels will again turn back on "the last dictator of Europe" waiting helplessly for the power in Belarus to change without any support.
Russia cannot turn back. But it's become practically impossible to work with Lukashenka. There are three ways out of the current impasse. It's possible to freeze all relations with Belarus and the Belarusian leadership.
Or close eyes to the situation again and try to come to terms. Or change the power in Belarus someways or other. Or help to change, as it was in Ukraine.
The first variant is inacceptable from the very beginning. Belarus is not Georgia, it seems impossible to sacrifice the relations so easily. The second variant looks highly unlikely after the words Lukashenka and Medvedev have said about each other. So, only the third variant remains.