Russia declares another gas war on Lukashenka
151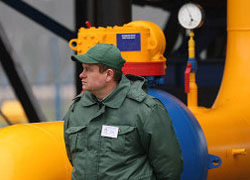 The Belarusian authorities have been given five days to determine how to pay the debt for Russian gas.
Under the gas contract with Minsk, Gazprom can cut gas supplies to the country in proportion to the debt Belarus has, RIA Novosti informs.
"In accordance with the terms of the contract, we have every reason to reduce the volume of gas supplies to Belarus in proportion to debt owed to Gazprom," Gazprom CEO Alexei Miller told Russian president Dmitry Medvedev at a meeting in the head of state's summer residence.
"Let's do this, then. As we are partners with Belarus, we'll give our colleagues five days to determine how they should conduct themselves," Medvedev said.
"Contact the heads of appropriate Belarusian institutions and offer them to pay the debt in the shortest period of time," Medvedev gave instructions to Miller.
"If this is not done, we'll have to take strict measures," the president emphasized.
The head of state reminded that the issue on paying Belarus's debt to Gazprom had been discussed during his recent meeting with Alyaksandr Lukashenka. Medvedev noted that the debt to Gazprom for this year's gas supplies reached some 200 million dollars.
"Belarus continues to pay for gas in the prices of 2009," Miller noted.
He reminded that Gazprom had sent two official letters to the Belarusian colleagues. "We haven't received an answer when the debt will be paid," he stressed.
"I spoke to Mr Lukashenka and he said this (the situation with the debt) is caused by complicated financial situation. Frankly speaking, every one has troubles now, and Gazprom has problems, too," Medvedev said.
"Unfortunately, these explanations do not satisfy us," the Russian president said.
Gazprom's chief noted Belarus has money to pay the debt. Miller said $2.5 billion worth of Beltransgaz's shares compensated the gas price rise.
"This year, Gazprom has fully repaid 50% stake in Beltransgaz. The last tranche of $625 million for a 12.5% stake was transferred this year," he said.
"So, Belarus has received the full amount of money for a Beltransgas's stake from Gazprom this year. The country has enough finances to pay for Russian gas in accordance with the terms of the contract on gas price increase in 2010," the giant's head said.