Prosecutors and militia interested how charter97.org functions
56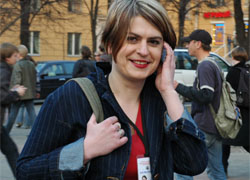 The first day of coming into force the decree on Internet censorship was marked by questioning of a well-known journalist Natallya Radzina.
Natallya Radzina, a journalist of charter97.org website, was called in to the investigation department of the Minsk prosecutor's office on July 1. The questioning was carried out by deputy head of the investigation department of the Minsk prosecutor's office Viktar Feshchanka and deputy head of the IT crimes department of the Ministry of Internal Affairs (Department K) Ihar Parmon.
Radzina was told about initiating a criminal case against "unidentified persons who spread deliberately false information on the Internet". They meant readers' comments on charter97.org to the article ""Hunt" in a manner of 1937". The article told about Afghan war veterans, who refused to accept medals from Alyaksandr Lukashenka. The journalist was told she was a witness in this criminal case.
Feshchanka and Parmon asked how charter97.org website works, how it is administered, where the office is situated and where the site is registered.
"I told them charter97.org is registered in the United States, so they should apply to Interpol to find its owners and administrators. They asked many technical questions. Maybe it was a reason why the deputy head of the Department K was invited. As decree on Internet censorship has come into force, persecution of the popular news site escalated. This is the forth time when I have been called in for questioning. Two criminal cases are opened against charter97.org, all our equipment is confiscated. By the way, we haven't bee given back the equipment and the prosecutor's office didn't punish anybody for beating me. After that, how can I trust such an agency as a prosecutor's office, if it covers criminal actions of militiamen? It's strange to me why prosecutors and the militia spend their time questioning journalists instead of investigating serious crimes," Natallya Radzina said after the interrogation.
According to the journalist the authorities are trying to completely eliminate the freedom of speech in the country in run-up to the presidential elections. "I know that today the KGB investigation department called in "Narodnaya Volya" journalist Maryna Koktysh for questioning. A prosecutor's office gave a warning to Radio Svaboda journalist Lyubou Lunyova today. I am convinced that attempt to harass my colleagues and me. They cannot break us, we will continue our activity. The authorities demonstrate the whole world their fear of free speech," Natallya Radzina noted.
The website charter97.org duting interrogation of Natallya Radzina. Journalists express solidarity.