Lukashenka: Only personal conflict exists
107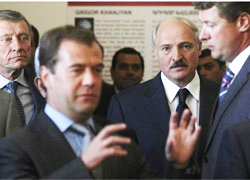 The Belarusian dictator comments on "Godbatka" film screened by NTV channel.
"There is absolutely no conflict between Belarus and Russia, there is no and cannot be any conflict between the Belarusians and Russians. Everything that is happening is absolutely subjective. It is a personal conflict, and so take it this way," Alyaksandr Lukashenka said at the meeting with Governor of Kursk region of Russia Alexander Mikhailov, Interfax-Zapad informs.
"I am more and more provoked to retaliate against the media campaign against me and Belarus. I am not going to answer to this mud," the Belarusian ruler said. As said by him, "we are not going to veer left or right. We are absolutely reliable and trustworthy partners."
Speaking about the films about Belarus and its leader shown by Russian TV channels, "Godbatka", Lukashenka stated: ""is not about Belarus and the Belarusian President, it is a film about them. They want everyone to be like them."
"So there will be no reaction in Belarus to this mud-flinging, no matter how many films like that they shoot," the dictator said.
"You should know: whether politicians want it or not, it is impossible to separate the Belarusians and Russians. There is no power and no politicians that can break our friendship, our fraternity," Lukashenka emphasized. "And I am saying that not because there is no way out for Lukashenka and Belarus, like some people think. You know, the world is huge. All it takes is to make the right move, and Belarus has not been and will not be alone. However, I am not sure that the Russian authorities are interested in it. Our peoples are definitely not," he stated. "So let us leave the smear behind," Lukashenka said.
Addressing the delegation of Kursk region, the ruler of Belarus noted: "You are our people, and as for everything you see here, we are ready to share everything with you, we are ready to provide any assistance and support possible."
Lukashenka stated that the Customs Union with Russia and Kazakhstan should be based upon understandable rules and without any exceptions and on an unrestricted basis.
"We should clearly formulate understandable rules of cooperation inside the Customs Union of Belarus, Russia and Kazakhstan without any provisos. Moreover, the exemptions and duties that exist now do nothing but damage our relations with the Russian Federation," Lukashenka noted.
He said that this and other problematic issues were discussed at the meetings with the leadership of Russia in Moscow and Astana. At the same time, as said by him, "implementation of the achieved agreements is still hampered, and it is not our fault," Lukashenka said. He added: "Certainly, not everything can be valued in rubles, dollars or cubic metres of gas if you wish. But if it is the custom of someone in Moscow now, we are forced to take it into account".