Abstainers's jogging called unauthorized action
34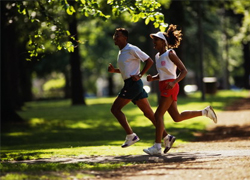 Police banned the initiative group "Temperance is easy!" to do weekly jogging in Gorky Park in Minsk on October 2.
As initiators of the action told BelaPAN news agency, the group gathers for jogging every Sunday. Everyone can join the run at the central gates of Gorky Park at 9:00 am.
At 9 in the morning last Sunday, there was a conflict with police when participants were going to do physical exercise. Law enforcement officers, one in uniform and the other in mufti, came to participants. Later, two policemen in uniform came closer. They said running was forbidden and threatened to arrest the runners for participating in an unauthorized event.
One of the runners asked to explain what authorized and unauthorized events meant, but policemen ignored the question. They warned that group members would be detained if they "begin any actions". In spite of the warning, the group chose another route for jogging.
Organizers of the action for healthy life plan to run in another place in Minsk next Sunday.