Dunja Mijatovic: I will not stop until journalists in Belarus are safe
13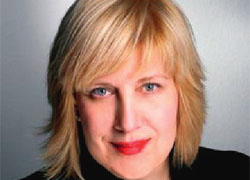 The OCSE Representative on Freedom of the Media sent a letter to Natallya Radzina, the editor of charter97.org website.
Natallya Radzina, who is prohibited from leaving country, handed over her letter to Dunja Mijatovic via journalist of "Narodnaya Volya" newspaper Maryna Koktysh, who had been invited to the OSCE Parliamentary Assembly in Vienna. In her letter, Radzina informed about the current situation in Belarus: house arrest of journalist Iryna Khalip; her own "exile" in Kobryn and the ban to leave the town; the upcoming trial over Alyaksandr Atroshchankau, the spokesman for presidential candidate Andrei Sannikov.
The OSCE representative sent a reply to the journalist, who is a suspect in the case of December 19.
Dear Natallya,
I was extremely glad to see Maryna at the winter session of the Parliamentary Assembly yesterday. Thank you for the letter Maryna handed over to me.
It made me both happy and upset. I was upset, because it's a pain to see what many independent journalists have faced and what a treatment faced you, the brave journalists I had the hounour to be acquainted with in Minsk.
As you know, I follow the events in Belarus and maintain contacts with the government. I am doing all in my power to change the situation as far as my mandate allows this, but unfortunately, I cannot solve many issues.
I will try to visit Belarus to meet you as soon as possible. I will do my best to support you.
I'd like to assure that I will not stop applying my best efforts to help independent journalists in Belarus and will not stop until I am sure that you and your colleagues are safe and can continue your important work.
I will use best efforts to convince the people responsible for policy towards the Belarusian media that the measures taken in relation to the media in the aftermath of the 19 December presidential elections are unacceptable.
I wish you all the best. I hope to see you soon.
Best regards,
Dunja
P.S. Dunja Mijatovic also presented Natallya Radzina, Iryna Khaliip, Svyatlana Kalinkina, and Maryna Koktysh a brooch in the shape of a heart as a sign that the Belarusian independent journalists are close to her heart.