Gaddafi arrived in Belarus?
272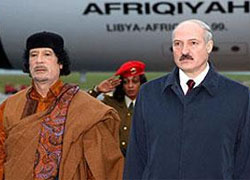 A military airplane from Libya landed in Minsk on September 26.
About 15 persons are said to be onboard. The plane was immediately moved into a hangar, a source told "Belorusski Partizan".
According to unconfirmed information, the plane was met by diplomats and the KGB was responsible for meeting the flight from Libya.
Rumours are spreading among personnel of the Minsk national airport that Gaddafi and his family flew in this plane.
Muammar Gaddafi disappeared in early September. His capture is one of the prior tasks of the National Transitional Council of Libya.
Another ousted dictator, former president of Kyrgyzstan Kurmanbek Bakiyev, is reported to hide in Belarus. Official Minsk refuses to extradite the escaped head of state to the Kyrgyz authorities.