Belarusian snipers defended Gaddafi in Libya
100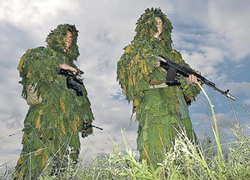 The National Transitional Council of Libya accuses Belarus of supporting the regime of Muammar Gaddafi.
The regime of Gaddafi used Belarusian snipers, Abdel Majid Ibrahim, one of military chiefs of the Libyan National Transitional Council says.
"We had information from our intelligence sources that a group of snipers from different European countries, including Ukraine, Belarus and other states, was invited (to Libya) by the regime of Gaddafi. According to the information we have, the group entered Libya through the Nufeida port in Tunisia before bringing them to Tripoli," Radio Svaboda quotes Abdel Majid Ibrahim.
Libyan rebels found a catalogue of Beltechexport, a Belarusian arms exporter, in the secret services headquarters. The finding gave a reason to suspect Belarus in arms trading in violation of the UN resolution. According to Sweden-based Sipri research centre, Belarus was in the world's top 10 arms exporters in 1997-2001. The centre estimates Belarus's income from arms deals in 2001 at about $1.5bn.
Experts suppose that Belarus exported weapons mainly to the countries famous for human rights violations, namely Yemen, Uganda, Peru, Angola. Besides, Belarus is accused of supplying weapons to the countries subject to UN sanctions – Iran, Iraq and Somali.