Former Leader of Belarus Stanislau Shushkevich to Receive Truman-Reagan Medal of Freedom
88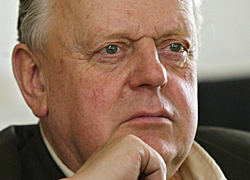 The Victims of Communism Memorial Foundation announced today that it will be presenting its first 2012 Truman-Reagan Medal of Freedom to the first head of state of Belarus Stanislau Shushkevich.
Dr. Shushkevich is renowned for his role in helping to dissolve the USSR, and for withdrawing nuclear weapons from the territory of Belarus.
The Medal of Freedom is awarded each year by the Victims of Communism Memorial Foundation to those individuals and institutions that have demonstrated a commitment to freedom and democracy and opposition to communism and all other forms of tyranny.
The medal presentation is expected to take place in late March.
Dr. Shushkevich, the son of a poet, was the first leader and head of state of independent Belarus after the fall of the Soviet Union. He served in that role from 1991-1994, and supported free market and democratic reforms.
On December 8, 1991, Dr. Shushkevich arranged, with the support of Belarusian democrats, a meeting in Belarus with the leaders of Russia and Ukraine (Boris Yeltsin and Leonid Kravchuk, respectively), to sign the "Belavezha Accords," the declaration which officially dissolved the Soviet Union. Later, he was credited for withdrawing tactical and strategic nuclear weapons from Belarus as fast as possible, without preconditions or compensation from Russia or the West.
The Victims of Communism Memorial Foundation honors the more than 100 million people who died under communism and is dedicated to educating this generation and future generations about the history, philosophy and legacy of communism.
Previous recipients of the Medal of Freedom include Vaclav Havel, Pope John Paul II, Lech Walesa, Vytautas Landsbergis, Elena Bonner, Senator Joseph Lieberman, Senator Jesse Helms, Lane Kirkland, William F. Buckley Jr., Michael Novak, and Major General John Singlaub, USA (ret).
In 2011, the medal was presented to former President of Latvia Vaira Vike-Freiberga, Congresswoman Ileana Ros-Lehtinen, and former U.S. Deputy Secretary of State John C. Whitehead.