Uladzislau Kavaliou executed
2116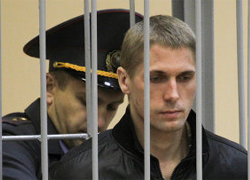 His relatives received a note from the Supreme Court sent on 16 March.
The note came to the Kavalious' address I Vitsebsk. As Radio Svaboda informs, Uladzislau's mother Lubou Kavaliova picked the note from the mail box.
She can't speak, can only sob.
"Mother has just picked it up from the mail box. The Supreme Court... a note from the 16 of March… the sentence was carried out… Mom has received it. They murdered him, everything was in vain, everything was in vain," Tatsiana, Uladzislau Kavalio's sister, could not say more.
Kanavalau's sentence might have been carried out too.
We remind that as it was reported on 14 March, Lukashenka decided against clemency for Zmitser Kanavalau and Uladzislau Kavaliou who were sentenced to death.
The young people were sentenced to death for terrorism. A powerful homemade explosive went off at the Kastrychnitskaya underground station in Minsk on 11 April 2011. 11 persons died instantly, four victims died later at the hospital. In general more than 300 became victims of the terrorist act. Kavaliou was charged for complicity. According to the inquest, he had known about the terrorist act being planned but had not informed the police. Kavaliou pledged innocent during the trial.