Lukashenka calls Kolya his successor
471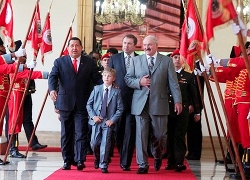 "My son Mikalai is here with me and it means we have a person to pick up the baton in 20-25 years," the dictator said in Venezuela.
The Belarusian dictator and Hugo Chavez had a meeting in Caracas.
Waiting for his Belarusian counterpart at Miraflores Palace, Chavez talked to journalists in his usual manner, thanked the people of Belarus for their help in developing Venezuela and turned attention to high quality of Belarusian goods.
Hugo Chavez welcomed Alyaksandr Lukashenka as his motorcade reached the palace and asked to call his son Kolya: "Today is a special day in Venezuela because we are hosting Alyaksandr Lukashenka and his son Mikalai," the Venezuelan president said.  
A ceremony of the official meeting began after a short exchange of greetings between the leaders of the two countries. A Venezuelan military orchestra played the national anthem of Belarus and sang it Belarusian. After the national anthem of Venezuela was performed, Chavez deviated from the ceremonial rules and said a few words about the Belarusian-Venezuelan cooperation:
"We have built not just a strategic union, but a brotherhood," the Venezuelan president noted.  Addressing Alyaksandr Lukashenka, he recalled his visit to Cuba and drew attention to Belarus's intention to expand relations with the countries of Latin America, in particular with the CELAC (the Community of Latin American and Caribbean States).
Hugo Chavez thanked Lukashenka for visiting Venezuela and expressed his warm words to "the hardworking, modest, jolly and heroic" people of Belarus. He stressed the presidents would consider a great number of projects which are already underway in the areas of oil and gas production, petrochemistry, housing construction, industry, agriculture, energy and gas service.
Lukashenka, for his part, assured his counterpart that all the agreements which had been reached between Belarus and Venezuela would be implemented ahead of schedule.
'Some began to doubt the serious prospects of cooperation between Belarus and Venezuela. My son Mikalai is here with me and it means we laid the foundation for a long and serious cooperation and we have a person to pick up the baton in 20-24 years," the dictator said.
Lukashenka noted Belarus came to Venezuela to help to develop the country. "We are a European country. We can work in lots of different places,  but we want to  leave a part of ourselves here, in Venezuela. We have come here not as colonizers. We have come to build the country and train Venezuelans," the Belarusian ruler said. "The decision to diversify the economy will be seen as a deed in the future," Lukashenka told Hugo Chavez.
The Venezuelan leader offered 7-year-old Kolya to say some words, but the latter declined the offer.
Photo AP