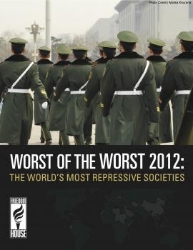 Freedom House has published an annual report "Worst of the worst."
Brutal dictatorships rule almost one quarter of the world's population and are deeply entrenched, according to a new Freedom House report released today. Worst of the Worst 2012: The World's Most Repressive Societies shows that these regimes keep a tight grip on power by eliminating political opposition, emasculating civil society, and silencing their critics.
Worst of the Worst highlights those countries that earned the lowest possible scores (Worst of the Worst) or fell just short of the bottom scores (On the Threshold) in Freedom in the World 2012, Freedom House's annual global assessment of political rights and civil liberties.   Nine countries and two disputed territories were designated as the Worst of Worst: Equatorial Guinea, Eritrea, North Korea, Saudi Arabia, Somalia, Sudan, Syria, Turkmenistan, Uzbekistan, Tibet and Western Sahara.  Seven countries and one territory were deemed to be "On the Threshold": Belarus, Burma, Chad, China, Cuba, Laos, Libya, and South Ossetia.
"The regimes, sadly, are very durable. They have lasted on average for more than 37 years without any meaningful transfers of power to competing political parties," said Daniel Calingaert, vice president of policy and external affairs at Freedom House. "This report serves as a call to action for the international community to focus on the countries that perpetrate the most egregious human rights abuses."
North Korea continued its streak as the only nation to be classified as Worst of the Worst every single year since Freedom House began its Freedom in the World survey 39 years ago, followed closely by Somalia, which has intermittently graduated to Threshold status but once again earned the lowest possible score in 2011.
Two countries were downgraded this year from Threshold status to Worst of the Worst.  Syria's atrocities against its own citizens have escalated this year but began last year with violent attacks on peaceful demonstrations and mass arrests of nonviolent activists.  Saudi Arabia, home of the Saudi royal family (by far the most enduring regime on the list), was also downgraded for civil liberties due to new restrictions on freedom of expression and crackdowns on religious minorities.
On a positive note, Burma, after a moderate political opening that began late in 2011, and Libya, after the ouster of Mu'ammar al-Qadhafi, remained among the Threshold countries but achieved improvements in civil liberties.  Even more encouraging were the improvements in Côte d'Ivoire, where the end of civil conflict and the transfer of power from former President Laurent Gbagbo to Alassane Ouattara after the election in 2010 lifted the country off of the Threshold list.