Protests against Astravets NPP in Vilnius
5
Representatives of ecological organisations of Belarus and Lithuania raised a banner "Belarusian NPP – bomb for EU".
Eco-activists held a picket during the Eastern Partnership Summit in Vilnius to attract the EU's attention to the problem of the Belarusian nuclear power plant, which, as they think, European leaders don't notice, Belsat reports.
The organisation Ecodom, the ecological community Green Network, the initiative "Astravets NPP is Crime", the Lithuanian Green Party and the Lithuanian Peasant and Greens Union took part in the picket.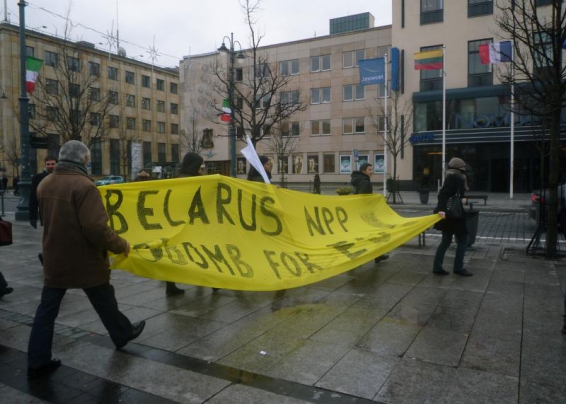 "We hold this picket during the summit because we think the European community has a weak position on the Belarusian NPP," Ecodom's activist Tatsiana Novikava said. "The Belarusian NPP is a threat to Europe too, because the plant is situated on the EU border in violation of laws and technical standards. The position of the European Parliament on Belarus released in September hardly mentions this issue. We think we should inform the European community and demand to take a principled position."
The deputy chairman of the Lithuanian Peasant and Greens Union, Tomas Tomilinas, agrees that the EU doesn't give enough attention to the construction of the Astravets NPP.
"The European Union pays little attention to the issue of the Belarusian NPP. Perhaps they have other priorities. We try to change the priorities," the ecologist noted. "We live near the NPP and worry about the future of our capital. We don't believe the documents they show us and their assurances of safety. That's why we are here. We want the construction works to be stopped."
The activists were handing out leaflets with information about the FlexRISK research carried out by the University of Natural Resources and Life Sciences saying that the Belarusian government deceives both Belarusians and Europe by promising no negative impacts in case of emergency at the NPP. The research shows that most territory of Europe will suffer from radioactive contamination in case of emergency at the Astravets NPP.