Riot squads in Shangri La casino
90
20.08.2013, 12:04

107,677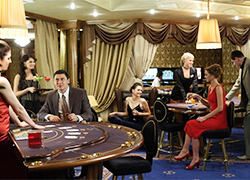 Two employees of the Shangri La casino have been arrested in Minsk on the suspicion of providing VIP clients with escort services.
Belarus MIA press-service reported about the incident on Tuesday.
The drug and people traffic control department of the Ministry of Internal Affairs of Belarus, Minsk city executive committee's police department together with the police department's riot squad have conducted "an operation on the suspension of the illegal activities of the Shangri La casino's employees and other people, who are suspected of involving people in prostitution, managing prostitution and organizing sex tourism in the territory of the Republic of Belarus", - the statement says.
Currently police line officers, the Investigatory Committee's officers and the employees of the State Committee for Legal Expertise are documenting and collecting the physical evidences in the framework of the investigation of the criminal cases started by the Central Investigatory Committee department against to suspects of 1985 and 1986 years of birth. The criminal case have been started in accordance with the part 2 of the article 171 (managing prostitution or creating conditions for prostitution) of the Criminal Code of the Republic of Belarus.
Both suspect have been detained. The gathering of information on their activities has been conducted by line officers since 2009 – the casino's opening. In the course of the investigation repeated occasions have been revealed that wealthy men, mainly the Shangri La casino's clients, were provided with girls of model looks for paid sexual services.
The abovementioned article of the Criminal Code provides for a 3 to 10 years imprisonment with the confiscation of property.