Russian Ministry of Energy accuses Belarus of increasing petrol prices
38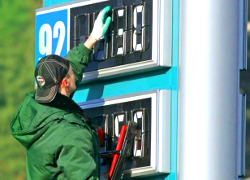 Belarus and speculative traders influenced the growth of wholesale petrol prices in Russia.
Belneftekhim company tries to make independent decisions to distribute Russian fuel produced at Belarusian refineries and leave it in the country instead of returning it to Russia, RBC news agency reports.
At a meeting of the board on monitoring the situation in the oil market held last week, deputy head of the Energy Ministry Kirill Molodsov turned attention to Belneftekhim's attempts to allocate resources of Russian companies at its own discretion. He said that over 40% of petrol produced in August from Tatneft's oil under a tolling agreement remained in Belarus.
Kirill Molodtsov recommends Tatneft and other oil companies to supply their raw materials for toll processing to Russia except for the volumes necessary to run their own filling stations in Belarus and Ukraine. He asked Belneftekhim to provide information to the Ministry of Energy about the plan and factual deliveries of petrol from Russian raw oil to Russia in the third quarter of the year. Belneftekhim declined to comment.
Belarus has imported 646,400 tonnes of petrol and diesel fuel since the beginning of the year (watch the diagram). According to Artur Akhmetov, an analyst from Solid investment financial company, as a rule, only the Russian companies having filling stations in Belarus use tolling agreements. They are Tatneft, Lukoil, Gazprom Neft and TNK-BP (before a merger with Rosneft). "Toll processing supposes re-export of fuel to Russia. But there's no strict control over this rule," the expert says.
Moscow has already accused Minsk of failure to fulfil its obligations in the current oil supplies agreements. The volume of oil products selling by Belarusians to Russia decreased in July: Belarusians offered to buy fuel at a higher price orienting to the West. Russian consumers didn't welcome this turn of events.
The decreased supplies of Belarusian petrol and other factors (petrol export, growth of excise duties, overhaul on some plants) have led to a sharp 20-30% increase in Russian wholesale prices. The Russian Federal Antimonopoly Service is carrying out a check in this regard. The oil companies may face fines of many millions if found guilty.