Russia stops smuggling of "banned" products through Belarus
31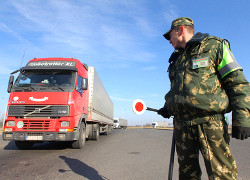 Requirements for the transit of fruit and vegetables from Belarus through Russia have been tightened.
Control measures on the import of products to Russia take force on Monday, November 24, due to suspicions of smuggling goods from the "banned" countries, RBC reports.
Russia's agricultural watchdog Rosselkhoznadzor announced on November 21 that control over plant products brought from Belarus would be increased. All trucks, including transit ones, will be checked on the Russian border even if they were checked by Belarusian customs officers.
Rosselkhoznadzor's head Aleksei Alekseenko told Vedomosti newspaper that similar measures would soon be taken in relation to animal products.
"The monitoring as part of the campaign to prevent the illegal import of products through Belarus bypassing Russia's response economic measures, has revealed more than 11,000 tonnes of fruit and vegetables from the EU that were imported from Belarus allegedly to Kazakhstan but stayed in Russia. It is more than 10% of the total volume of products imported from Belarus," Rosselkhoznadzor's wrote in a press release on November 21. According to Rosselkhoznadzor, it regrets that Belarusian and Kazakh appropriate services failed to take effective actions.
Russia stops Belarusian trucks carrying EU products almost every day. Lukashenka repeatedly assured his partner in the Eurasian Economic Union Vladimir Putin that he would not allow bringing EU goods into Russia.