Ukraine to have large-scale military exercises with Poland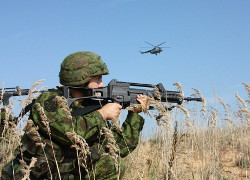 The military exercises "Safe Sky 2014" will be held in May and June.
The Ministry of Defence of Ukraine announces that the country's air forces will have large-scale military exercises involving MiG-29, Su-27 of Ukraine's Air Forces and MiG-29 and F-16 of the Polish Air Forces, according to a press release of the Ukraine's Defence Minsitry.
The participants of the international exercises "Safe Sky 2014" will work out the tactical approaches of detection and interception of air targets.
The Ukrainian military forces are considering an issue of holding a meeting with international experts to prepare the drills. They also plan to discuss the issues of realisation of air situation data exchange program and specify the list of entry points for air traffic.
The relocation of military equipment began some days ago in Ukraine. The redeployment is explained with the preparation for the large-scale military exercises. Interim defence minister Ihor Tenyukh said there were no plans to send columns of military vehicles to Crimea.