Mikhail Zhyzneuski to receive Hero of Ukraine title
18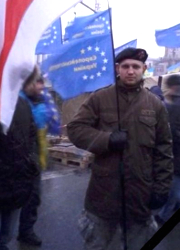 Belarusian Zhyzneuski, who was killed in Kyiv, will receive the posthumous title of Hero of Ukraine.
The Ukrainian MFA prepares documents to give the posthumous title of Hero of Ukraine to Belarusian Mikhail Zhyzneuski, BelaPAN reports.
Svitlana Dmytrenko, an advisor at the Ukrainian MFA, says the award will be given by the "next president of Ukraine", according to a ruling of the Verkhovna Rada of February 24, 2014. The ceremony will take place after the early presidential election scheduled for May 25.
According to earlier reports, the Rada proposed th next president of Ukraine to "give the title of Hero of Ukraine to the civilians killed during peaceful protests in Ukraine from November 2013 to February 2014".
As of March 20, 130 people died since the beginning of protests, November 30, 2013, according to the Ministry of Healthcare of Ukraine.
Mikahil Zhyzneuski of Homel died from a gunshot wound to the heart on January 22. He was buried at a cemetery near Homel on January 28.