Poroshenko urges to unite against Russian aggression in Ukraine
3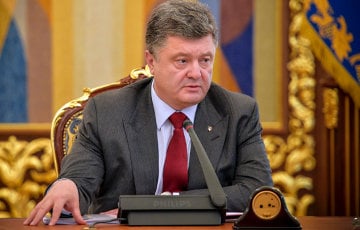 Ukrainian President Petro Poroshenko urges "the nations of the free world" to stand together against Russian aggression in Ukraine.
"Celebrating the 70th anniversary of the end of the World War II and honoring the memory of tens of millions of its victims, we appeal to all the peoples of the free world to strongly present a united front against the Russian aggressor, who started an undeclared "hybrid" war against sovereign Ukraine," - according to the appeal of the President in connection with the 70th anniversary of the end of the World War II, published on presidential website on Wednesday.
According to Poroshenko, the Russian Federation is now destroying the system of European and global security by cynically trampling international law, having annexed Crimea, and heating up an armed conflict in Donbas. Russian aggression is a threat not only for Ukraine but for the whole civilized world, its security and stability.
"The bloody lessons of the World War II should not be in vain. Only joint efforts can stop the aggressor, as it was 70 years ago," he said.
The current support of Ukraine by the overwhelming majority of European and world leaders, the assistance that Ukraine constantly feels in such difficult times, indicate that the international community is aware of the futility of the aggressor's policy of "appeasement," Poroshenko said.
"The democratic world should make every effort to restore the damaged system of international order and return confidence in the international law," he said.