UN Special Rapporteur Makes Unofficial Visit To Belarus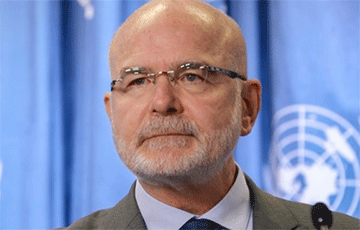 From 16 to 18 April, UN Special Rapporteur on the situation with human rights defenders Michel Forst was in Belarus.
The trip took place at the invitation of the following public organizations: Belarusian Helsinki Committee, Belarusian Association of Journalists and Legal Initiative. Apart from meetings with human rights activists, Michel Forst met with lawyers, journalists, and officials – representatives of the Ministry of Justice and the Ministry of Foreign Affairs.
As Forst has told BelaPAN, this year he plans to make a thematic report on the issue of impunity of crimes committed against human rights defenders. The Special Rapporteur explains that, in addition to human rights defenders, "all those who somehow protect human rights," including journalists, are in the sphere of attention of his mandate.
Forst will have finished collecting information for the report by June 1. He does not know yet whether Belarus will be mentioned in this report – it all depends on what information will officially come to his office from Belarus.
Forst also notes that the Belarusian authorities have not officially invited him to visit the country. "The UN practice is such that the Special Rapporteur sends an official letter with a request to allow a visit to the country (there has been such an appeal from Forst. – note of BelaPAN), and then at every opportunity, often word-of-mouth, I make an inquiry about my invitation," – Forst says.
At the same time, he stresses that if there is a special country rapporteur (the UN Special Rapporteur on the human rights situation in Belarus is Anaïs Marin), inviting this person is the priority. "It is unlikely that even if we received an invitation (from the authorities. – note of BelaPAN), we would agree to come officially until the country special rapporteur is allowed to enter Belarus," – Forst adds.
As for the current visit to Belarus, the Special Rapporteur notes that he has organized his meetings independently, making arrangements with individuals and associations. "All these meetings are open, I do not hide them. The last thing I want is being accused of coming here unofficially and secretly meeting someone," – Forst says.