Polish Border Guards: Each Migrant Pays Lukashenka's Regime Up To $ 14 K For Attempt To Illegally Enter Europe
10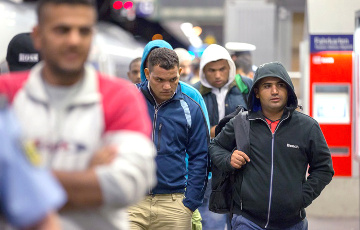 There are more and more attempts to break through the Polish border in large groups.
At a press-conference of the Polish Border Guard Service on October 15, several statements were made about the wave of illegal migration across the Belarusian border to the European Union, Belsat reports.
Over the past 24 hours, Polish border guards have prevented almost 700 attempts to cross the border illegally (Polish border guards do not say how many people participated in the attempts).
Since the beginning of the year, there have already been 19,500 such attempts (and this is only at the Belarusian-Polish border, while migrants also go to Lithuania and Latvia).
There are now about 1,650 people in the migration centers of Poland.
About 5% of migrants successfully cross the border illegally, and reach Germany.
More and more attempts to break through the border in large groups are recorded.
Migrants pay from 2 to 12-14 thousand dollars per person - this is the money that goes to the Lukashenka regime.
In particular, profits are received by the National Airport Minsk, Belavia, the Lukashenka administration, overseeing the Center-Resort company, which issues invitations to migrants, as well as security agencies - the border committee, and the KGB.
A day earlier, the Polish Seim approved bills on the construction of a border barrier worth € 353 million, and on the automatic expulsion and refusal to consider applications from migrants who illegally came not directly from the zone where their life and health are at risk. These bills have not yet been finally adopted; they have yet to be signed by the President of Poland.