Makei Talked to the Iranian Foreign Minister, but Propagandists Were Ashamed to Tell about It
13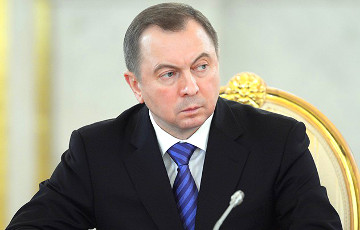 Tehran wants to bring home the stranded illegals.
Lukashenka's Foreign Minister Uladzimir Makei spoke on the phone with Iranian Foreign Minister Hussein Amir-Abdullahin.
Makei's Iranian colleagues informed about the phone call of the two foreign ministries' heads. The Belarusian Foreign Ministry, for some reason, preferred not to publicize the conversation.
In particular, the Iranian Foreign Ministry tried to resolve the issue with a group of 13 Iranians who were stuck on the border of Belarus and Lithuania.
Iranian Foreign Minister told Makei that he is serious about the emergency and called on the Belarusian diplomatic and border agencies to cooperate in humanitarian work in order to find people and provide them with medical assistance. He also called on the Iranian embassy to facilitate access to the victims in order to help them return home.
According to the Iranian Foreign Ministry, Uladzimir Makei expressed Minsk's readiness to provide maximum assistance to Iran.
It is noteworthy that there is no information on the telephone conversation on the website of the Belarusian Foreign Ministry yet.
"The Minister of Foreign Affairs of Belarus, Uladzimir Makei, has recently been so rarely in touch with foreign colleagues that any of his negotiations are instantly and in detail reported by the press service of the Foreign Ministry and the state press," notes the German historian and political scientist Alexander Fridman. "And it was just yesterday that the propaganda got a good chance to increase the share of the minister, who may soon be on the European sanctions lists."
What's the matter? Tehran is interested in returning the citizens of Iran, who are stuck in the Belarusian-Lithuanian border area and trying to get into the EU. Belarus is used to fawning over Iran, which means that official Minsk will have to send these people back, possibly even at its own expense. And this is not at all the news that Makei and the Belarusian propagandists would like to report on.
Iranian history has another important feature. While many immigrants from Iraq, Lebanon, and other Middle Eastern countries rushed to the EU for a better life, then opponents of the fundamentalist dictatorship and other citizens who are persecuted in this country for political, religious, and other reasons often flee from Iran to Europe. A return to Iran as a result of the collusion of two dictatorial regimes could have serious negative consequences for them.