First Evacuation Flight To Syria Departed From Minsk
10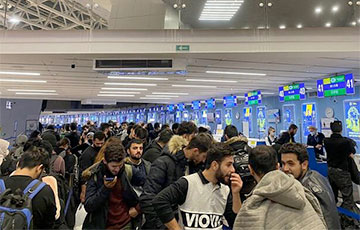 Several hundred migrants who tried to break through from Belarus to Poland have flown home.
The plane of the Cham Wings airline flew from Minsk to Damascus in the morning on December 8. There were 96 passengers on board. This is an evacuation flight for migrants, who had previously arrived in Belarus with tourist visas and tried to get to Western Europe, reports Radio Svaboda.
For some unknown reason, the plane took off for Syria only at 8:24, although it was scheduled for 3:30. This is the first evacuation to Syria, and there have been nine flights to Iraq so far.
Two evacuation flights to Iraq are scheduled for Dec. 9.
The Iraqi Airways airline is assigned to both flights. As stated in the schedule of Minsk airport, the plane to Erbil will depart at 13:15 and to Baghdad at 14:30. Flight to Erbil, scheduled for December 8, has been canceled. Earlier, the company explained that they wanted to get as many people as possible to fly with the maximum load.
Thousands of migrants still remain in Belarus, hoping to get to the EU countries.
The West blames the Lukashenka regime for the "migration crisis".
All in all, since November 18th, about 4 thousand migrants have already left Belarus, the exact figure is still unknown. According to the official Warsaw, the storming of the Polish border is controlled by the Belarusian law enforcers, who are helping migrants to break the laws, and the plan of the migrant crisis has been developed in Moscow. Despite the evacuation flights, there are daily attempts to cross the border illegally by those migrants who are still staying in Belarus.