"Do Not Give Up And March Forward!": Belarusians Of Wroclaw Held Vibrant Solidarity Event
1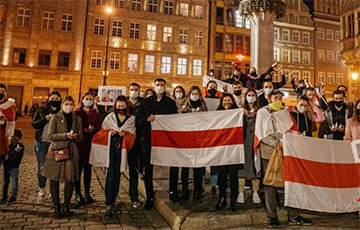 It is dedicated to the 200 days of the Revolution.
The Belarusians of Wroclaw have held a rally dedicated to the 200 days since the beginning of the incredible Belarusian protest, the Charter 97% telegram channel reports.
"We have remembered the political prisoners and expressed our support to all those who fight the darkness every day so that the light would win, so that our children would have a future.
Belarusians are beautiful, free people who deserve a good life, but we still have to fight for our bright future. We shall not give up and shall march forward! Long live Belarus!", - the protesters declared.