Tsikhanouskaya Called On USA To Increase Sanctions Against Lukashenka's Regime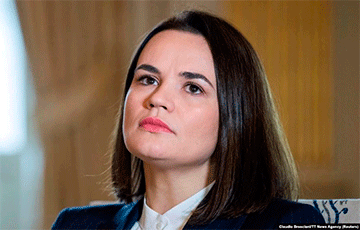 The U.S. Congress has held a hearing on Belarus.
The Foreign Relations Committee of the U.S. House of Representatives held a hearing on the democratic movement in Belarus and the female leadership. During online hearings, Sviatlana Tsihanouskaya acted as a witness, Congressman Bill Keating, head of the Subcommittee on Europe, Energy, Environment and Cybersecurity, held the hearing, Radio Svaboda informs.
Congressman Keating reminded about the elections in Belarus in August 2020. He noted that Aliaksandr Lukashenka obviously lost the election and used brutal repressions to stay in power. Keating emphasized the important role played by Belarusian women, including Sviatlana Tsikhanouskaya, in the fight against the dictatorship.
Keating reminded about the steps, taken by USA in support of democratic movement in Belarus, in particular about the Act of democracy, human rights and sovereignty of Belarus, passed by the Congress. He emphasized that the main work on democratization of Belarus is done by the people in the country itself, as well as the Belarusian diaspora around the world.
Congressman Christopher Smith, the author of the Act on Democracy, Human Rights and Sovereignty of Belarus, noted that Russia is looking at Belarus with the same intentions as it looked at Crimea and Ukraine. Smith mentioned numerous politically motivated criminal cases against Belarusian women.
Sviatlana Tsikhanouskaya began her speech by saying that she wanted to give a voice to those Belarusians who still continue to protest. She stressed that not a single representative of the regime has been held responsible for the crimes, while at least 8 protesters have been killed. In particular, she spoke about Aliaksandr Taraikouski, killed by security forces.
Tsikhanouskaya spoke about the protesters, naming Nina Bahinskaya, Volha Khizhynkova and Alena Leuchanka, and how they suffered from the regime's repression. She also spoke of journalists Katiaryna Andreyeva and Darja Chultsova, who were tried for carrying out their professional duties.
"People are suffering and dying right now. Belarusians need your help more than ever," - Tsikhanouskaya concluded her speech.
Responding to the congressmen's questions, Tsikhanouskaya stressed that Belarus needs new free and fair elections. Despite the unprecedented level of violence by the authorities, people are still struggling, but they need international assistance and international pressure on the regime, Sviatlana Tsikhanouskaya stated.
She also said that she communicates with people inside Belarus every day.
Responding to Congressman Smith's question, Tsikhanouskaya called to increase pressure and impose more effective sanctions against the regime. She suggested expanding the lists of personal sanctions, first of all against law enforcement officers, as well as sanctions against companies - Lukashenka's "wallets".
She urged the U.S. congressmen to demand the release of imprisoned journalists, to support civil society in Belarus, Belarusian democratic channels on Youtube and Telegram, as well as the media operating in Belarus, including Radio Svaboda.
Tsikhanouskaya urged U.S. Ambassador Julie Fischer to come to Belarus and try to visit political prisoners and political trials to see with her own eyes the inhumane conditions of detention and lack of respect for the law. At the same time, however, it is very important that Fischer not present her credentials to Aliaksandr Lukashenka, so as not to create any impression that he is a legitimate head of state, Tsikhanouskaya said.
According to Sviatlana Tsikhanouskaya, Belarusians are ready to support the strengthening of sanctions, even if it affects their well-being, as they continue to suffer from the actions of the regime.