BPF Party Head Ryhori Kastusiou Detained
9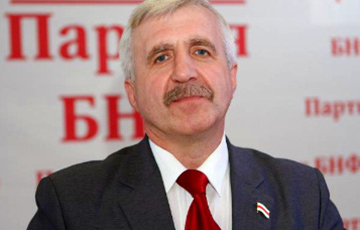 His relatives have been told that he is in the KGB detention center.
In the evening of April 12, law enforcers detained the leader of the BPF Party, Ryhor Kastusiou. Information about it appeared in social networks. It was later confirmed by the politician's relatives to the publications of Nasha Niva and Onliner.
- This is my father-in-law, he has been detained today at 7 pm. But, most likely, they came to him about 17-18 pm when he was in Shklou. A KGB officer called my wife. But she got lost and did not remember the article," - they said to Onliner.
The relatives were also told that Kastusiou was at the KGB detention center at 17 Independence Avenue.
We remind that the BPF Party is a member of the organizing committee of Charnobylski Shliakh. On April 9, the application for the rally was filed to Minsk City Executive Committee. It was signed by Dzmitry Kuchuk, head of the Green Party, Ryhor Kastusiou, head of the BPF Party, and Liudmila Volkava, representative of the Belarusian Social Democratic Party. The answer of the authorities is expected by the law till 21 April.