Tsikhanouskaya's Deputy: I Knew Makei Personally And Have Positive Experience Of Cooperation
207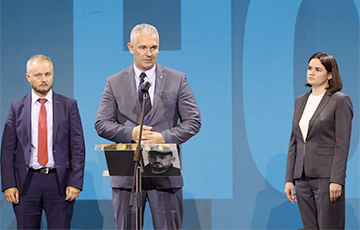 Valery Kavaleuski expressed condolences to the relatives of the Lukashist.
Valery Kavaleusky, deputy head of Tikhanovskaya's 'Transitional Cabinet', expressed his condolences to the relatives of Uladzimir Makei. His statement was published in the telegram channel of the "cabinet", which is headed by Sviatlana Tsikhanouskaya.
"I knew Makei personally and have a positive experience of cooperation with him since the days of the diplomatic service. As a human being, I sympathize with his loved ones, this is a heavy loss of a person who died at such an age," wrote Tikhanovskaya's deputy, who worked at the Belarusian Foreign Ministry and the Embassy of Belarus in the United States.
"But, as a citizen of Belarus, I am even more sorry for the lost historical opportunity, when society expected Makei to find the courage to go over to the side of the people. However, he remained to serve the inhuman, anti-Belarusian regime, involved in crimes against humanity, in aggression against Ukraine," the politician continued.
According to Kavaleuski, by 2020, Makei was one of the few with whom Western diplomacy was ready to negotiate, and who achieved certain successes in foreign policy as head of the Foreign Ministry. "But his inglorious and fruitless death showed how you can make a mistake if you delay the right things and decisions," says Kavaleuski.
It should be noted that Makei is one of the key figures of Lukashenka's regime. In 2000-2008 he worked as an assistant to the dictator. On July 15, 2008, he was appointed head of Lukashenka's administration.
It was Makei who spoke on TV about the "preparation of terrorist acts" and "militants" during the protests after the 2010 "elections".
On August 20, 2012, he was appointed Minister of Foreign Affairs. He actively lobbied for the lifting of sanctions against the Lukashenka regime. He stated that "there are no problems with political prisoners in Belarus".
As the Charter97.org website wrote, Makei died amid information about the upcoming replacement of Lukashenka.