Mayor's Adviser: Occupiers Want to Surrender Mariupol to Kadyrov Fighters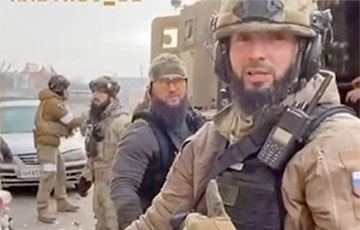 The invaders found the city too "unfriendly".
Russian authorities want to give temporarily occupied Mariupol to Chechens for plundering.
This was reported by Pyotr Andryushchenko, adviser to the mayor of Mariupol.
"The pieces of the puzzle are becoming clear little by little, what the occupiers plan to do with Mariupol and who will be the conditional 'supervisor of reconstruction'. Our sources from Ivashchenko's entourage (the interim head of the occupation "administration", an OPZZh city council member - UNIAN) reported about "patronage" from Chechnya - because Mariupol turned out to be too unfriendly and nationalistic. It is therefore planned to give the city to the Kadyrov fighters to intimidate and suppress resistance. With the right to plunder," he writes.
Andryushchenko reports the information has already been partially confirmed - Chechen politicians have already met with the occupiers of the city.
"Today a working meeting was held for the first time in Mariupol with the occupation administration. It involved Russian State Duma deputy Dmitry Sablin (curator of the occupation of Mariupol since 2014), Adam Delimkhanov and Ahmed Dolgaev, who are essentially part of Chechnya's political power. They discussed plans to 'restore Mariupol'," the mayor's adviser says.
At the same time, Andryushchenko notes Kadyrov fighters behaved like masters and were rather making an inventory of what was left than discussing "plans for reconstruction".