SSU: Putin's Fellow Sponsor Medvedchuk Exchanged For 200 Defenders Of Ukraine
9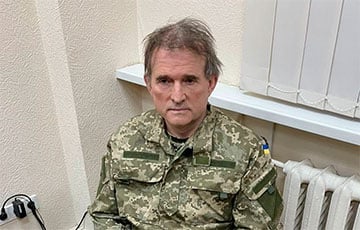 The head of the agency has reported details of the exchange.
The SSU has reported that out of 215 prisoners rescued from Russian captivity, 200 defenders were exchanged directly for Viktor Medvedchuk.
This was said in a statement published by the SSU press service late at night on September 22.
Acting SSU head Vasyl Malyuk, who personally met the freed Ukrainians in Chernihiv Region during the exchange procedure, stressed that Medvedchuk is not just Putin's cousin, but also a state traitor.
"His guilt is fully documented in the relevant materials collected by the SSU. In addition, while working on Medvedchuk's cases, we have neutralised more than one network of agents, detained many state traitors and obtained a great deal of important information used in counter-intelligence activities. And now, thanks to the exchange, we have been able to get out of the Russian captivity the heroes who are so awaited at home," he said.
He stressed that the exchange of Viktor Medvedchuk for Ukrainian defenders does not prevent his cases from being heard in court.
"This applies to decision-making, imposing punishment and confiscating arrested property. After all, in such a case, the special trial procedure is applied in the absence of the defendant," Malyuk said.
The SSU chief noted that the exchange was made possible by amendments to the current legislation, which regulated the relevant legal mechanisms.
In order to save the lives and health of our defenders, the Coordinating Staff for the Treatment of Prisoners of War decided to carry out the exchange. Medvedchuk himself also agreed to this. The court approved the prosecutor's motion.
The acting head of the Security Service of Ukraine said that despite difficult negotiations, the exchange was successful. After all, Ukraine returns many more defenders than it returns Russians.
He also reminded that a total of 20 such releases have taken place since the start of the full-scale Russian invasion, which resulted in the return of 802 POWs from captivity.