Journalist Veranika Charkasava was assassinated 4 years ago
2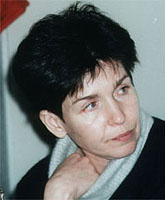 October 20 marks 4 years since the assassination of the journalist of Salidarnasts newspaper Veranika Charkasava. The assassin hasn't been found until now.
Veranika Charkasava was found dead in her own apartment. There were about 50 stubs on her body.
From the beginning the investigation insisted that the crime was committed on domestic reasons. Closest family members of the journalist became main suspects. But these absurd speculations haven't been confirmed.
The investigation carried out by journalist Syarhej Satsuk has convincingly confirmed that the assassination had been committed by a professional killer, who tried to imitate a setting of a domestic crime. However, law-enforcing agencies in fact ignore these arguments. Actually, the investigation of Veranika Charkasava's assassination is blocked.
Journalists attracted attention of investigators to the fact that in spring 2004 a cycle of articles by Veranika Charkasava "KGB is still watching you" was published in "Salidarnasts". And earlier the journalist wrote about contracts of firms connected with Infobank (presently Trustbank) with Iraq.
But the investigation hasn't still considered the professional version of the crime offered by the journalist's colleagues.