New political prisoner in Belarus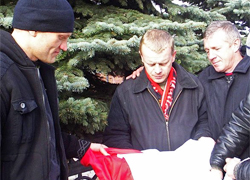 Activist of the Conservative Christian Party BPF Syarhei Kavalenka, accused of hanging out a national white-red-white flag on a New Year's tree, has been moved to a detention facility for two months.
It was a decision of the prosecutor of Vitebsk dated January 10. "Syarhei Kavalaneka was taken to the prosecutor today, and the latter ruled to arrest the activist for two months," BelaPAN learnt from Paval Sevyarynets, the co-head of the organizing committee on creating the BCD party. "The investigation will be carried out. It's not excluded that a term in the detention facility may be extended."
A case under article 339 part 2 of the Criminal Code (repeated hooliganism or hooliganism committed by a group of people, or hooliganism connected with disobedience to a person terminating violent actions, or hooliganism connected with bodily harm) was instigated earlier against Syarhei Kavalenka, an activist of the Conservative Christian Party of the Belarusian Popular Front for hanging out a white-red-white flag on the city's New Year's Tree. The article provides up to six years of imprisonment.
The apartment, where Kavalenka and his family live, was searched. Militiamen were looking for flags, but found only opposition leaflets "Belarusian Solidarity", which were seized.
A public committee to defend the arrested oppositionist is being created in Vitsebsk. Its session is scheduled for January 11. "This is very serious, taking into account that Taras Surhan, an activist of the organization Young Belarus, was detained on January 9," Sevyarynets said. In his opinion, Kavalenka may become a bargaining chip in trade between the Belarusian authorities and West.
As our website has already reported, at noon January 7, a national white-red-white was hung out at the top of the New Year's Tree set up on Victory square in Vitsebsk.
According to passers-by and the city dwellers who came to the square with children for Christmas fest or to a skating rink, the white-red-white flag of 4 meters was hung out at the top of the New Year's Tree near a star. People turned attention to this fact, began to take pictures and video with cell phones.
Militia cordoned off the tree and called for emergency service. The flag was removed with the help of a fire truck before eyes of passers-by. A dozen of militia cars and special vehicles drove to the square, even the regional militia command visited the site. Militia began to check IDs and search people on the square.
As it became known later, activist of CCP BPF Syarhei Kavalenka was detained for the white-red-white flag.
There are some political prisoners in Belarusian jails, namely businessmen from Vaukavysk Mikalai Autukhovich and Uladzimir Asipenka, and Young Front activist Artsyom Dubski.
Photos from Radio Svaboda's archive. Syarhei Kavalenka is on the left.
Photo by Syarhei Serabro