Andzelika Borys: Regime of Lukashenka violates rights of all Belarusians
24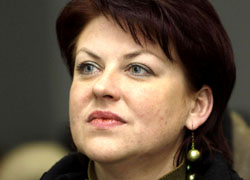 Actions of the officials against the unregistered Union of Poles in Belarus should be viewed in the connection with general policy of the Belarusian authorities violating human rights.
Andzelika Borys, the head of the unrecognized Union of Poles in Belarus, said this commenting on the conflict about the Polish House in Ivyanets.
The UPB head noted the situation resembled the one in 2005, when riot militia had taken the Polish House in Hrodna by storm. "These events demonstrate the Belarusian authorities continue to press on the independent Union of Poles in Belarus," Borys said.
According to Borys, this policy displays itself in "pressure on independent organizations and people who have independent views". Among examples she gave such facts as long-term pre-trial detention of businessman from Vaukavysk Mikalai Autukhovich, pressure on journalists of independent media, including Polish TV channel Belsat.
Andzelika Borys expressed gratitude to the "democratic society of Belarus and all people of good will" for solidarity with the unofficial Union of Poles.
Andzelika Borys also said Polish President Lech Kaczynski had invited her to a meeting. According to the UPB head, the president expressed his solidarity with the NGO.
We remind that yesterday in Ivyanets (Minsk region), militiamen and officers of court burst into the Polish House, owned by the unrecognized by the Belarusian authorities Union of Poles. Officers of court attached the property. The building was surrounded by militiamen. Activists of the Union of Poles were forced away from the building. After that militiamen got Stanislau Buracheuski, appointed head of the Ivyanets pro-governmental Union of Poles, into the building.
The previous conflict related to the Polish House in Ivyanets happened late January. The authorities tried to hold a congress there in order to replace the head of the local branch of the Union of Poles not recognized by the authorities, Tereza Sobal (Teresa Sobol). Dozens of organization's activists were detained on the way to Ivyanets.
The Union of Poles was split in 2005. Its part which was loyal to the regime is officially recognized. Activists of the UPB not recognized by the authorities headed by Andzelika Borys are subject to crackdown by the authorities.