US authorities didn't send businessmen to Belarus. Sanctions remain in force
10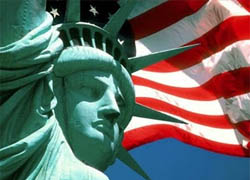 Belarus doesn't demonstrate significant progress in the areas of democracy and human rights, so the economic sanctions imposed by the United States remain in force.
The Embassy of the United States in Minsk commented Radio Svaboda on the meetings of American businessmen with Alyaksandr Lukashenka and PM Syarhei Sidorski. On March 29, representatives of ten companies specializing in IT, legal consulting, pharmacology and engineering, arrived in Minsk.
- What was the role of the US Embassy in organizing a visit of American companies heads to Belarus?
- It was a private visit of American business representatives. The firms, whose representatives have arrived in Belarus, didn't address the US Government for help in organizing the trip.
- Can this visit held to establish warmer relations between the two countries?
- The Belarusians and Americans have common interests that could become a base for fruitful and mutually beneficial relations between our counties. There are a lot of spheres of possible cooperation. The United Nations offered Belarus to discuss these unused opportunities in our relations. This sign to the Belarusian leadership was given by Assistant Secretary Philip Gordon during his visit to Minsk in August.
Unfortunately, we don't see significant progress in the areas of democracy and human rights. The concern about this situation has made the United States to impose financial sanctions and visa restrictions on the Belarusian leadership in 2006, which later were extended in 2007 and 2008. However, we have a hope that Belarus will make concrete steps in this direction.