Verdicts to Autukhovich and Asipenka to be delivered today
19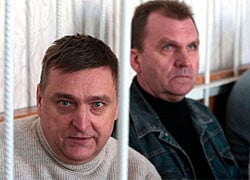 A sentence to the political prisoners, who have spent more than a year in a detention facility, is to be pronounced in the Supreme Court in Minsk at 2:30 p.m.
On April 16, prosecutor Eldar Safarau demanded 20 years in a medium security colony and confiscation of property for Mikalai Autukhovich and 11 years in a medium security colony for Uladzimir Asipenka.
The case against Autukhovich is totally fabricated, his lawyer Pavel Sapelka says. The lawyer analyzed every episode of accusation of the businessman and evidence of guilt, given by investigators. He says most of them are either insignificant, or obtained in violation of the law, as for example sawed off TOZ 16 rifle, which was allegedly prepared to kill a high official on the entrepreneur's order. Expect for this, no material evidence of Autukhovich's guilt was found out during the process.
All witness in the case of Autukhovich say about pressure by investigators, deny their previous evidences and say the entrepreneur from Vaukavysk is not guilty.
Witness Lyudmila Paremskaya, a former bookkeeper of Autukhovich's firm "Nika-Trans" said she underwent psychological pressure during investigation.
"Everything I told about weapons during investigation is contrary to reality. I was in such a state that I could say and write anything at all, in order to be released," Lyudmila Paremskaya said about her testimony about grenade launcher found in Hrodna.
Entrepreneur Ihar Puzikau from Orsha told the court that he had been threatened, he had been promised early release, interrogated as a suspect, and it was effective: he gave necessary testimony. The award for him was not only freedom, but money for the ticket from Hrodna to Orsha and a bottle of vodka from the hands of the investigator.
Alyaksandr Kozel, a witness who was taken to the court room from prison, stated that his testimony was in fact obtained by physical violence.
We remind that leaders of entrepreneurs from Vaukavysk Mikalai Autukhovich, Yury Lyavonau, and Uladzimir Asipenka, who have always defended their rights actively, were arrested on February 8, 2009. On February 18, the entrepreneurs were charged under article 218 of the Criminal Code (intentional damage to or destruction of property of citizens). On June 23, a criminal case under article 359 of the Criminal Code (a terrorist attack) in the form of preparation (article 13) was instigated against the detained. They are accused of attempt on the life of regional high-ranking officials. Later, Yury Lyavonau was released and cleared from all charges.
Protesting against the unlawful arrest, Autukhovich went on 90-day hungry strike that ruined his health.
In January 2010, influential Human Rights Watch recognized the businessmen from Vaukavysk political prisoners.