Prosecutor demands to sentence Autukhovich to 20 years of prison
63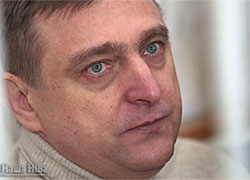 He said that even though charges against Vaukavysk entrepreneurs were not proved in the Supreme Court and were rebutted by witnesses.
Prosecutor Eldar Safarau offers to sentence Mikalai Autukhovich to 20 years of imprisonment, Uladzimir Asipenka and Alyaksandr Laryn -- to 11 years. Mikhail Kazlou - to 3 years, "Radio Svaboda" informs.
On April 16 during the trial in the Supreme Court where Mikalai Autukhovich and other persons charged with preparation of a terrorist attack are standing trial, the last основная уликаwitness was giving evidence, and comments of Mikalai Autukhovich about evidence concerning weapons, attempt on life and other eposides were made.
Autukhovich's motion about repeated questioning of a witness Kazimir Yelesik was granted. That man, according to Alyaksandr Laryn, found a small-bore rifle in the forest and passed it to Laryn. During the first interrogation the witness was showed only pictures of a sawn-off shotgun, but the court for some reason failed to offer the weapon itself. And yesterday this exibit was offered to him. The witness stated for certain that the shortgun had nothing in common with the rusted rifle he had given to Laryn. Thus, after the repeated interrogation of the witness it turned out that there are no exibits in this case.
After the interrogation of the witness Mikalai Autukhovich made a statement.
"I had experience and I know well what a detonating cord is. When they said that this cord was passed round the lead unit of a grenade launcher, but it didn't explode. It's impossible. In Afghanistan we used detonating cords when we needed to obtaine some part of shotup military machines. Why should we blast the grenade launcher, if it is the key evidence? I believe that it was destroyed on purpose, as in reality it was a model, a moulage for military students," Autukhovich said about the charges that he had a grenade aluncher and other weapons.
Mikalai Autukhovich repeated that "the terrorist case" had been ordered by higher authorities and this order is directly connected with the first case in which he had been punished for alleged non-payment of taxes:
"They have done so not to solve the crime, but because they executed an order of someone from higher echelons of power, if they were not afraid to intimidate witnesses, falsify evidence. They have one aim, to isolate Autukhovich, so that I would not be able to prove my innocence in the first criminal case, as they would have to give back equipment, ; immovable property, big money, restore the firm. They have really done mischief and it is impossible for them to back up," the businessman is convinced.
Besides, Autukhovich tld a lot about methods of investigators, which are used in prisons and remand prisons. These methods were compared with the things happened in the 1930ies during Stalinist repressions.
Pavel Sapelka, a lawyer, commented on the words of his client in the recess:
"Autukhovich has recieved a possibilty to tell how the so-called "Autukhovich's case" started, how it was investigated. Earlier he tried to do that as well, but the court stopped him often for some reason. This statement sould not be commented, but published in mass media entirely, for everyone to make conclusions," the lawyer said.
We remind that all the witnesses invoved in the case of Autukhovich, say a strong pressure of investigation is experienced by them, and state that the Vaukavysk businessamn is innocent, and withhold their previous evidence.
For instance, witness Liudmila Paremskaya, a former bookkeeper of Autukhovich's firm "Nika-Trans" said she underwent psychological pressure during investigation.
"Everything I told about weapons during investiagtion is contrary to reality. I was in such a state that I could say and write anything at all, in order to be released," Liudmila Paremskaya said about her testimony about grende laucher found in Hrodna.
Vorsha-based entrepreneur Ihar Puzikau told to the court that he had been threatened, he had been promised early release, interrogated as a suspect, and it was effective: he gave necessary testimony. The award for him was not only freedom, but money for the ticket from Hrodna to Vorsha and a bottle of vodka from the hands of the investigator.
Alyaksandr Kozel, a witness who was taken to the court room from prison, stated that his testimony was in fact obtained by physical violence.