Dictator shuts borders for EU and US leadership
144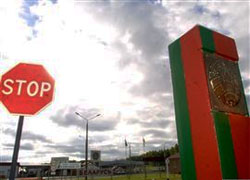 The Belarusian authorities have prepared a black list of more than 150 EU and US officials in reply to the EU sanctions against Belarusian officials.
Interfax-Zapad news agency learned this from a source in the government.
"The response measures are to affect over 150 persons from the European Union and the United States, among them President of European Parliament Jerzy Buzek, MEP Jacek Protasiewicz, and a number of other politicians, parliament members, journalists famous for their most controversial initiatives towards Belarus," the source noted.
He said "restrictions on issuing entry visas to the persons, who have the most biased and destructive attitude towards Belarus and played the main role in aggravating the crisis in Belarus-West relations, have already been imposed".
The source noted that "Belarus does not intend to resort only to visa restrictions and has worked out a number of other retaliatory measures". "It is not ruled out that they will affect the issues of trans-border cooperation and activity of certain foreign foundations and NGOs in Belarus," the source told the agency.
He added that "the measures adopted will have proportionate and differentiated rather than reflexive character towards the EU and US sanctions".
On January 31, the Council of the European Union imposed visa restrictions on 157 Belarusian officials including Alyaksandr Lukashenka. The EU foreign ministers are supposed to extend the list of the Belarusians officials banned from entering.