Human rights activist Ales Byalyatski arrested
110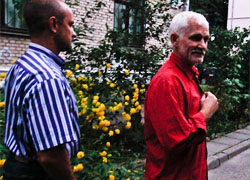 The flat and summer house of the human rights defender and the office of Viasna human rights centre were searched.
Ales Byalyatski, the Vice President of the International Federation for Human Rights, was detained in Minsk on August 4.
Suspicious men in plain clothes began to gather near the Minsk office of Viasna human rights centre. Viasna staff left the building before the "guests" came.
Human rights activist Andrei Sushko says he saw two cars with people in mufti in the yard and a district police officer sitting on a bench. They were apparently preparing to detain Byalyatski.
The home of Viasna chief was searched in the evening. Ales Byalyatski was detained near his flat on Victory Square. His wife was at home during the search, human rights activist Anastasia Loika said.
According to preliminary information, the search was conducted on the request of the Financial Investigation Department.
BelaPAN managed to reach the Byalyatskis by phone. Natallya Byalyatskaya said the search had begun at 5:30 pm. The search warrant was shown to her, but the woman did not say who signed it and which agency conducted the search. The telephone conversation lasted only one minute, then she was ordered to stop talking.
After 7 in the evening, Ales Byalyatski was guarded to Viasna office. He said he was accused of "hiding incomes on a large scale." The office was searched. His wife and son were taken to the family's summer house, which was also searched, Radio Svaboda reports.
The criminal article "hiding incomes on a large scale", under which Byalyatski is reported to be accused, carries a punishment of 7 years in prison and confiscation of property.
The search ended after 9 pm. The human rights activist was taken to the Financial Investigation Department for interrogation.
A part of the property in the office was arrested. A computer was seized from Byalyatski's flat.
Human rights activist Uladzimir Labkovich says Ales Byalyatski was detained for three days to determine his status in the criminal case.
Byalyatski is in the detention facility in Valadarski Street.