Mikalai Khalezin: Lithuania leaks Viasna's bank information
240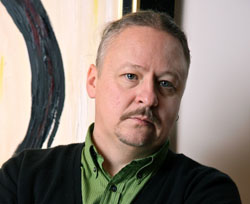 The head of the Belarus Free Theatre says Lithuania has disclosed NGOs bank information to the Belarusian authorities.
Journalist and the head of the Belarus Free Theatre Mikalai Khalezin writes this on his blog commenting on the information about the raid on Viasna human rights centre.
"Today, Viasna human rights centre is the most effective Belarusian human rights organizations. It is the organization of Ales Byalyatski that bore the brunt of legal assistance to the people involved in the December 19 criminal case persuading lawyers to take these difficult and risky cases. It is Viasna that organized the lion's share of financial funds to help the repressed people and their families. One can make many claims to the organization, as to any other living structure acting in non-freedom, but they are the best today. That is why the main blow is aimed at them to knock out one of the pillars of the Belarusian resistance.
What is the most horrible in this situation with Viasna is that the premises for the blow were found not by the Financial Investigation Department, which investigates the case, but by the leadership of a neighbouring state.
It's not a secret that a lot of opposition NGOs are registered in Lithuania, because they cannot conduct their economic activity in the native country. Some of these NGOs were registered officially, some use bank servicing as a legal entity, some opened a bank account as an individual but use it to receive financial aid to their structure. This was done on permission of the Lithuanian authorities and with support of local NGOs helping their Belarusian colleagues with legalization in the neighbouring country.
The situation suddenly changed some months ago. It was possible because of the open support of Alyaksandr Lukashenka's policy demonstrated by Lithuanian President Dalia Grybauskaite. I do not know who personally gave the order, but a month ago, Lithuania disclosed all information relating to Belarusian NGOs registered in the country, private bank accounts of Belarusian public activists and transactions on these account on the request of the Belarusian Financial Investigation Department. Not only Ales Byalyatski and Viasna human rights centre are in danger, but also a number of other Belarusian independent public organizations and public activists," Mikalai Khalezin is convinced.