Jerzy Pomianowski: "It's not contest, but solidarity"
3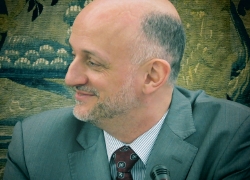 A conference "Warsaw Dialogue for Democracy" was held in Warsaw.
The event opened a cycle of conferences with the aim of uniting activists, representatives of analytical centres, NGOs, international organisations and other participants of the democratic process, especially in the EU neighbours. Krzysztof Oledzki, the ambassador of the Polish Ministry of Foreign Affairs, said the conference would answer the burning questions and give the opportunity to tell about formation of the European Endowment for Democracy:
"The Warsaw Dialogue for Democracy is to become the basis for the European Endowment for Democracy. The Fund is expected to render financial aid and support the activity for democratic transformations in the EU neighbouring countries."
The debate is attended by representatives of 18 political schools in Europea neighbourhood countries: North Africa, the Middle East, the Balkan countries, the Eastern Neighbourhood countries and Russia. The conference was organised by the Ministry of Foreign Affairs of Poland and the Institute for National Remembrance.
Jerzy Pomianowski, the Polish MFA Undersecretary of State, said in an interview with charter97.org:
"Warsaw Dialogue for Democracy is a new initiative that we decided to launch. The conference is a platform to discuss our efforts to promote democracy. It is not a  conversation when someone explains something to others. It is a dialogue, where we want to hear one another and want to tell our opinion and experience to one another.
Warsaw is an excellent place to hold this dialogue. People from Eastern Europe, North Africa, the Middle East and other regions have come here. There are representatives of almost 40 countries. I think it's becoming a good example, like the Community of Democracies that was founded in Poland in 2000 due to Prof. Geremek. We then proposed the European Endowment for Democracy. And now we have the conference, which will be held on a regular basis. It is what we would like to tell the world: Poland is a country that appreciates democracy and human rights. It is a subject of our international relations.
Besides the formation of Poland's brand as a democracy promoter, it is also important for us that voices of people struggling for human rights and democracy could be heard. It is vital, because they give us signals from their side, but they sometimes don't hear one another. It is very important that they could adopt the experience. There are many things in common between Tunis and Ukraine, Belarus and Syria, Moldova and Egypt. Sharing experience may make their work easier. We also try to help them in this task.
There are many participants from Belarus at the conference. It's natural, because Belarus is our neighbour. The current and future conferences of the Warsaw Dialogue for Democracy are open for Belarusian participants. We always welcome them."
Responding to a remark that Poland helps the Belarusian democratic forces more than other EU countries, Jerzy Pomianowski said: "We help as we can. It's not a contest, but solidarity."