Andrei Sannikov: Liberation of political prisoners should not be paused
14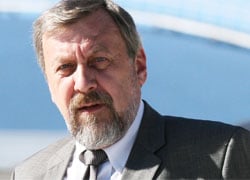 British Minister for Europe David Lidington called Andrei Sannikov.
In the beginning of the conversation the Minister congratulated Andrei Sannikov and Dzmitry Bandarenka on their liberation.
"I thanked the Minister for Great Britain's position and his personal participation in the life of the political prisoners. I said that this time there should not be pauses in the liberation of prisoners of consciousness. The Minister emphasized that the position of Great Britain hasn't changed. He is glad to see the European Union keeping to a strong common policy regarding Belarus. We talked about the political prisoners who are still in jail.
I said that this problem has become both political and humanitarian, because today the life and health of the political prisoners are in danger. I am particularly concerned with Dzmitry Dashkievich, Siargey Kavalenka, Mikalay Autukhovich, Mikalay Statkievich.
As Mr Lidington remarked, it is difficult to comprehend that in the center of Europe people can go through what the Belarusian political prisoners are going through today. He expressed his support to the political prisoners, their families and friends. As a father, he was especially happy that my and Danka's forced separation is over," Andrei Sannikov said.