Organizers appealed for Freedom Day event
6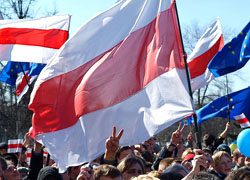 On 7 March an appeal was submitted to Minsk city executive committee for holding a procession and a meeting on 25 March on the occasion of the Freedom Day.
BelaPAN learnt about that from the chairman of the BPF party Alaksiej Janukievich.
The event's organizers appeal for allowing for the participants to gather near the Academy of Sciences building at 6 p.m. and then march with a procession along the Independence Avenue and a meeting in Independence Square from 7.30 to 8 p.m.
The appeal was signed by representatives of the BPF party, Movement for Freedom, organizational committee for creating of a public association "Young Christian Democrats", United Civic Party, Belarusian Social Democratic Party (Hramada) and the Council of Belarusian Intelligence.
It is scheduled that the event will be held in tune with solidarity with Ukraine and will condemn the Kremlin's aggression in this country. It is expected that it will start with signing the anthem of Belarusian People's Republic "We will go out in solid rows", which the organizational committee suggests that the participants learn in good time.
This year it will be 96 years since Belarusian People's Republic was announced. This date is not celebrated officially in Belarus, but representatives of democratic public celebrate it annually as the Freedom Day.
BPR's independence was proclaimed at night on 25 March 1918 in Minsk. For the first time the idea of creating Belarusian People's Republic was announced at Belarus all-nation gathering in 1917.