"We're Not Protesting - We're Changing Power"
3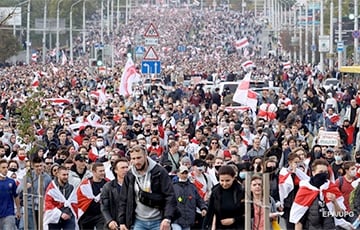 Belarusians are creating conditions for the regime to disappear.
The Basta! telegram channel has shared the opinion of its readers about the Belarusian revolution:
"The word 'protest' is a mistaken stereotype, it should be switched up, - our readers wrote. - When people protest, they demand from the authorities to change the conditions. When the authorities change those conditions, the protests always stop.
But that is not the case with us! We have not had a single protest since August 9. We are not protesting - we are changing power. We don't have protest marches and activities, we have revolutionary ones, we create conditions for the regime to disappear.
Protest has no goal to change the authorities, while we have had that goal from the very beginning. We have no one to demand it from, no one will do anything.
We should substitute the word "protest" by "revolutionary" actions. We need advancing of the revolution, not suppressed "protests".