New Enterprises Keep Joining the All-Belarusian Strike
79
12.08.2020, 16:21

166,103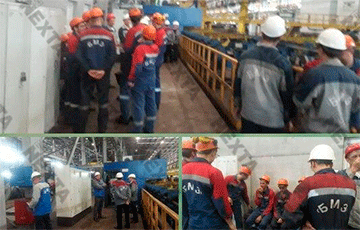 The action is gaining momentum across the country.
The All-Belarusian strike is taking place in Belarus for the second day. We remind that several Telegram channels urged not to go to work. Employees of Belarusian enterprises responded to the call, and today new enterprises have joined the strike. Latest information on the strike:
- The workers of "Trade House BMZ" in Russia are on strike.
- Oncologists have announced their readiness to join the All-Belarusian strike.
- Workers of Minskmetroproject came out to protest.
- Several workshops at "Hrodna Azot" stopped working.
- The Paudniovy market in Hrodna does not work today.
Yesterday workers of "Belenergotechproeject," Electromechanical Plant, MTZ, 4th trolleybus fleet, Minsk Margarine Plant, Institute of Chemistry of New Materials of the National Academy of Sciences of Belarus, Zhabinka Sugar Plant, and others, began to strike.
We remind that Belarusian Telegram channels made an appeal:
- Three days of protests in Belarus showed that going to work is merely dangerous.
On the way to work/home, you can be beaten with truncheons, shot with rubber bullets, and detained.
Driving to work is just as dangerous! Bastards can damage your vehicle, ram you, get you out of the car, beat and detain you.
Also, the fascists can take your children hostage and kidnap them, threatening to blow up themselves and them with a fragmentation grenade, if someone dares to help.
Do you want to change this? Join the All-Belarusian strike!
Solidarity is our strength!
Download and install the Telegram messenger on your smartphone or computer, subscribe ("Join" button) to "Charter-97" channel.