US Embassy Speaks Harshly Against belarusian Authorities
27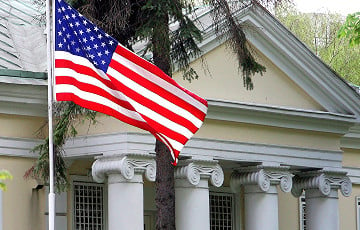 The Belarusian people deserve a better future.
The US Embassy is deeply concerned by the continuing harassment of Belarusian independent media doing "nothing other than their jobs: reporting factual information to their fellow citizens", reads the statement of the diplomatic mission.
"This week's arrest of Andrei Alyaksandrau and yesterday's raid on the BelaPAN news agency in search of dubious justifications for his arrest are yet more evidence that the authorities continue to be willing to manipulate the law for their own political gains. A strong independent media and the free exchange of, and access to, information are the right of the Belarusian People and essential for an open and modern society," the statement emphasizes.
The diplomats again urge the Belarusian authorities to protect and uphold fundamental freedoms, especially of assembly, speech, and the media. "The Belarusian people deserve a better future," the statement says.
Important to note, on January 13 it became known that journalist and media manager Andrei Aliaksandrau was detained. He is a suspect under Article 342 of the Criminal Code "Organization and preparation of actions that grossly violate public order, or active participation thereof." The man's girlfriend Iryna Zlobina was also detained. It is reported that Iryna is a suspect in a criminal case, but the investigators did not specify it.
On January 14, the office of the news agency BelaPAN was searched in connection with the detention of journalist and media consultant Andrei Aliaksandrau, who cooperates with the agency.