"I Am Ready to Die, but Not Surrender"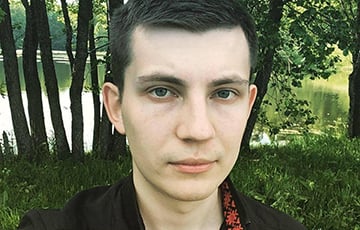 Ihar Losik has been on a hunger strike for the second month.
As of January 19, 185 people have been recognized as political prisoners in Belarus: businessmen, activists, proxies of presidential candidates, members of initiative groups, protesters, journalists - in a word, those who were not afraid to exercise their right to express their opinions and participate in political life countries. Among the political prisoners are bloggers, whom the Belarusian security forces announced a real hunt before the elections, Novaya Gazeta writes.
Back in May, before the start of the election campaign in Belarus, in almost every interview, Lukashenka began to mention the telegram channels in a very negative way. On May 25, during one of his speeches, he said that they "criticize the authorities for anything" and promised to deal with the "authors of fakes."
Exactly a month later, on June 25, Lukashenka also accused external forces of interfering in the Belarusian elections:
"This is being thrown up by the Babichev's structures, these "nezygari" from Russia. They are not ours."
And then a massive attack on political bloggers began.
The first was the "Tsikhanouski's case" - the author of the "Country for Life" blog, a presidential candidate, whose initiative group was refused to register back in May. At first, Siarhei was arrested administratively just when filing applications for registration of initiative groups with the CEC, so his wife Sviatlana registered his group instead of Tsikhanouski. And on May 29, Siarhei Tsikhanouski was arrested in a criminal case. Now he is accused not only of organizing mass riots but also of inciting social hatred. The sanction provides for 5 to 12 years in prison.
In fact, Tsikhanouski was taken into circulation back in December 2019 due to his participation in protests against integration with Russia.
Then he received his first 15 days of arrest, and, after his release, he continued to be active. He began to travel to Belarusian cities, to meet with ordinary people, to show how the Belarusian hinterland actually lives, who is dissatisfied with Lukashenka and why. He posted all live broadcasts with conversations on his YouTube channel. In six months, he became popular. The queues to leave signatures are largely due to Tsikhanouski. After the arrest of Siarhei, other bloggers began to be arrested in Belarus, just in case.
Now, there are eight more bloggers behind bars and under investigation, besides Tsikhanouski:
Dzmitry Papou - moderator of social networks of the telegram channel "Country for Life";
Viarhili Ushak - was Tsikhanouski's operator at the picket in Hrodna;
Dzmitry Kazlou, the author of the YouTube channel "Gray Cat," was detained in June along with activists of the European Belarus;
Uladzimir Tsyhanovich is the author of the MozgOn channel (traffic cops stopped him under the pretext that he allegedly had no right to drive a car, pulled him out of the car and drew up a protocol for disobeying the police, and then according to the standard scheme - first, they arrested him for a "day," then put him in a pre-trial detention center)
Brest bloggers Siarhei Piatrukhin and Aliaksandr Kabanau - authors of the Narodny Reporter channel;
Uladzimir Niaronski is the author of the channel "Slutsk for Life" (the investigation claims that he posted videos on YouTube that humiliate the honor and dignity of the chairman of the Slutsk regional executive committee Andrei Yancheuski, and then also organized with Tsikhanouski "an illegal public event-meeting" in Hrodna).
Blogger Ihar Losik has a special story - today, the whole country is worried for his health and life.
In June 2020, the then Minister of Internal Affairs of Belarus, Yury Karaeu, said that street actions, such as chains of solidarity, in Belarus are controlled through Telegram channels and Radio Liberty streams (included in the register of foreign media agents in Russia. - ed.). On the same day, the administrator of the telegram channel "Belarus Golovnogo Mozga" Ihar Losik, who is also a consultant of the Belarusian service Radio Liberty, was detained. A straight double demonstrative combo!
Ihar Losik has been behind bars since June 25, 2020. On that day, they came to his apartment with a search, after which he was detained and charged under Part 1 of Article 342 of the Criminal Code of Belarus ("organizing group actions that grossly violate public order and associated with obvious disobedience to the lawful demands of the authorities").
On December 25, his maximum detention period expired. But a new charge was brought against him. This time - according to part 2 of article 293 of the Criminal Code of Belarus: "preparation for participation in mass disorders." In total, the blogger has now been behind bars for more than 200 days. On December 15, in protest against the charges, Ihar Losik went on a hunger strike, which has been going on for over a month. The last time the lawyer Dzmitry Lepretor visited the blogger was on January 12. The lawyer said that Ihar feels fine, although he looks very pale.
Many Belarusians are worried about his condition. They ask in letters to end the hunger strike. Here are the words on this occasion from the conclusion conveyed by Ihar Losik himself.
From a letter by Ihar Losik
"A month has passed since the beginning of my hunger strike. I would like to express gratitude to those who support me. Despite the fact that your letters have ceased to be sent to me, I know what you are writing. You write a lot. I replied to everyone from whom I received letters - wait for personal words of gratitude, drawings, and news of my prison life. Faith in you, my truth, and innocence give me the strength to hold on. It has long been obvious to everyone that my criminal prosecution is illegal. (Ihar was detained even before the start of all the mass protests. - ed.) I beg you: you do not need to persuade me to end the hunger strike and surrender. How can I surrender if I have been held illegally in prison for more than six months? I already forgot my daughter's voice. I understand that all my relatives and caring people are very worried about my health. But I cannot and do not want to stop. I will manage my life myself, but I still have the strength. I believe in the power of your solidarity."
It is currently known that the term of Ihar Losik's detention was extended until March 25, 2021.
Ihar's wife Darja reported this on the page in social networks. She quotes her husband's words.
From a letter by Ihar Losik
"I know that I am not guilty of anything. I have nothing to confess. Everyone knows this, including those who control my criminal case. All actions of prosecutors and investigators to continue repressions against my family and me will not affect my decision. I am ready to suffer, to die, but not to give up. I'm not going to break. Although my body is in prison, my soul is free and is with my family, which I will love until my last breath."
Ihar and his family hope for the support of all concerned people and international organizations, the ambassadors of the EU countries in Belarus, the governments of democratic states in "drawing attention to the gross injustice and restoration of the rights of Ihar Losik and hundreds of other political prisoners in Belarus."
What can I do?
If you want to support Ihar Losik, you can write a letter to him. Address: 222163 Belarus, Zhodzina, 22A Savietskaya st. Ihar Losik.