Financial Times: Belarus Echoes at Protests in Russia
5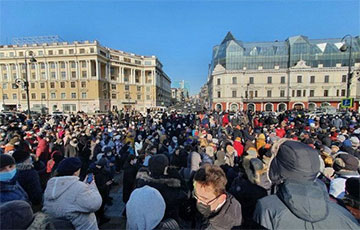 The Kremlin underestimated the level of support for Navalny.
A casual observer on Pushkinskaya Square in Moscow on Saturday could easily confuse the events with those that have not subsided in neighboring Belarus for the past five months. One of the protesters raised a white-red-white flag.
Others chanted: "Long live Belarus!" The drivers honked and loudly played the song "Changes" by the Kino band. The police in balaclavas, with truncheons and in full protection, beat people. These beatings were captured on videos that were widely shared on Twitter and Telegram, writes the Financial Times.
The publication writes that, in Russia, about 40 thousand people came out to protests in Moscow and thousands in 110 other cities across the country. They didn't just taste like Minsk. A sudden outbreak of anti-government sentiment just a few minutes away from the Kremlin put Russia in a difficult position, in which Lukashenka is now. When demonstrations in Belarus escalated, the Belarusian autocrat asked Russia to send its police to help. He argued that "if Belarus falls, Russia will be next." Fearing to turn the Belarusians against Moscow, Vladimir Putin rejected this request.
But after the arrest of opposition activist Alexei Navalny sparked off Saturday's protests - the largest anti-Putin rallies in years, the Kremlin risks misjudging people's sentiments because of its own brutal behavior. Thus, it can legitimize a national movement against itself, just as Lukashenka did.
Police detained 3,345 people on Saturday, according to OVD-Info calculations. The independent organization says the arrests were record-breaking. At Saturday's protests, for the first time in Putin's presidency, Russians attempted to break through barricades and free detainees or threw snowballs to force the police to retreat. State media reported that approximately 40 police officers were injured.
"Before, no one thought that this could happen, just like in Belarus. But the rise in protest activity indicates that many people are not happy with the government. People came out not to support Navalny, but because they were tired of corruption and bad governance," said Andrei Kolesnikov, a senior fellow at the Carnegie Moscow Center.
44-year-old anti-corruption activist Alexei Navalny was arrested last week after returning from Germany, where he was treated after being poisoned by a "novichok" chemical weapon. The publication writes that the attempt on his life was committed by order of the Kremlin. Now Navalny faces up to 13.5 years in prison on two separate charges. He claims that this is a punishment for his activities.
Despite threats of reprisals from security forces, Navalny's supporters are urging people to come out for new protests next weekend.
"We know what we need to do, we know what we want, and we are confident that we can get him out. Obviously, Alexei's return presented Putin with an unpleasant choice. Either he will arrest him or not. And both options are bad for him," said Leonid Volkov, who runs Navalny's regional network from Vilnius.
But data from Saturday's protests suggests some change. Alexey Zakharov leads a group of volunteers from the monitoring group, which conducted 359 interviews in Moscow. The data showed that 42% of those on the streets had never participated in a protest before. And almost half of them were women.
"One of the aspects that we and Belarus have in common is, as you can see, young people taking to the streets, which gives a burst of energy and enthusiasm. There are young people who don't care anymore and are gradually moving away from the collective national attachment to the status quo, nostalgia, and stability," said Philip Warman, director of GPW.
Navalny's associates hope that the shown support will convince the Kremlin to let him go. In 2013, Navalny was sentenced to 5.5 years in prison on charges of fraud. But a protest rally outside the Kremlin, which was attended by 7,000 people, forced the court to postpone the sentence the next day. In 2019, protests in Moscow secured the release of journalist Ivan Godunov, who was arrested on drug trafficking charges. The police later admitted that the charges were falsified.
But this time, the Kremlin seems more determined to remove Navalny from the political field. State television constantly reports that the protesters have committed "atrocities" against the police, as well as allegedly used "Maidan technology" developed by US intelligence. This echoes the assertion of Lukashenka, who accused foreign forces of using the protests in Belarus as "cannon fodder" against his regime.
In turn, Kolesnikov believes that the Kremlin's mistake was "underestimating the level of support for Navalny."
"When people saw live what happens to Navalny and then a film about Putin's palace, it provoked a strong emotional impulse that made them take to the streets," said an expert at the Carnegie Moscow Center.