Bloomberg Told How the West Should React to the Hybrid War between Lukashenka and Putin
10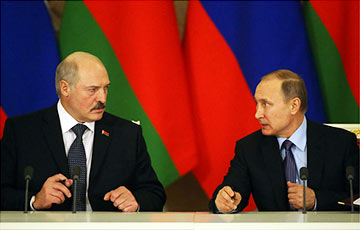 What is the first step for the EU to take?
It seems that the Belarusian dictator Aliaksandr Lukashenka and his "overlord" in Moscow, Vladimir Putin, are waging a coordinated form of hybrid war against Western Europe. Such tactics, of course, are not new for Lukashenka or Putin. What's new is how aggressive they have become, turning migration into a weapon against Europe, Bloomberg is quoted by The Mirror of the Week. Ukraine.
In the past, Putin, for example, was better known for hybrid warfare involving a mixture of cyberattacks, disinformation campaigns, and "green men" launching invasions of other states. This time, Lukashenka, apparently with Putin's "blessing," is using some of the most vulnerable people in the world as weapons.
For months, Lukashenka "transported" refugees from different parts of the Middle East - Iraq, Afghanistan, Syria, and not only - to Belarus, then transporting them to neighboring countries that are members of the European Union and NATO - Latvia, Lithuania, and Poland.
Refugees are effectively trapped between Belarus and the Polish or Baltic military, who are trying to restrain the flow of migrants. With winter approaching, many may simply freeze. Others, with the help of smugglers, somehow cross the EU borders - on foot or by hitchhiking to their favorite destination, Germany. Germany has recently registered over 6,000 migrants. The Minister of Internal Affairs of the country intends to strengthen control at the border.
Poland and some Baltic states, for their part, have begun installing barbed wire fences along their borders with Belarus. The government in Warsaw, in particular, wants to look tough on both migration and pressure from Minsk and Moscow. Warsaw announced this week that it will increase the number of troops patrolling the Belarusian border to 10,000.
By provoking such a reaction, Lukashenka's cynical campaign exposes and exacerbates several intra-European conflicts and weaknesses. The bloc remains traumatized by the 2015 refugee crisis but has been unable to reform its migration regime in part due to Poland's refusal. The EU is also being torn apart by the internecine struggle between Brussels and Warsaw over the rule of law. Lukashenka and Putin at this time stir up the internal inconsistency of the EU countries.
As noted by the Minister of Foreign Affairs of Latvia, it seems that Belarus and Russia also illegally smuggle their citizens, possibly even terrorists, across the EU border together with migrants.
There is little doubt that Lukashenka and Putin are jointly using such tactics. They have already effectively combined their armed forces, deployed close to the EU / NATO borders.
Russia and Belarus have been thinking about unification for a long time. But if Lukashenka once thought that he could govern the country according to the methods of the "tsarist-Soviet regime," then Putin probably has other expectations. He obviously considers himself the only leader.
To stay in power amid pro-democratic protests and Western sanctions, Lukashenka needs Putin to back him. Of course, their hybrid war will not stop there.
It probably already includes the manipulation of Russian gas supplies to Europe in order to exacerbate the energy crisis. Other autocrats such as Turkish President Recep Erdogan have also tried to blackmail Europe using refugees. But the way Putin and Lukashenka have turned migration into a weapon is crossing a new moral line.
As an obvious first step, the EU should impose sanctions on all companies involved in such "transportation." And regardless of what happens in the internal conflict between Brussels and Warsaw, the entire bloc must show solidarity with Poland and the Baltic countries.
But Europeans, including those countries that have underestimated the threat of "Putin's Russia" in the past, must also reconsider their overall strategic position against the backdrop of such tactics by Minsk and Moscow. In the geopolitical clash between Western Europe and the Kremlin, one side values human life, and the other does not. The question is whether it will be possible to correct this "asymmetry," the publication sums up.