We Can
28
Natallia Radzina
23.02.2021, 11:24

23,638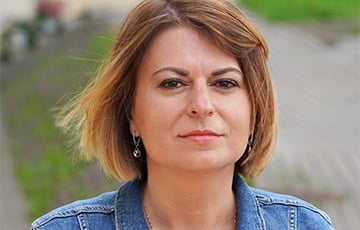 The system is already crumbling.
Political processes, not much different from the Stalinist ones, are underway in Belarus today, and often there is not even a semblance of legality. Obviously, the system has gone haywire and is frantically trying to shut everyone's mouth and push everyone into prison, not even realizing that any lawlessness comes to an end and everything will have to be answered.
These days, Viktar Babaryka, a candidate for the presidency of Belarus, who played a huge role in the revolutionary upsurge of Belarusians in 2020, is also being tried. I cannot say that this is my candidate; however, I consider it necessary right now to express my admiration for this man's courage. Yes, of course, it was possible to understand who Lukashenka was several decades earlier, but the fact that Viktar Babaryka challenged the tyrant and announced his intention to become president is undoubtedly a brave and respectable act.
I spoke with Viktar Dzmitryjevich several times on the eve of his arrest. In some ways, in my opinion, he was naive, in some things, overly cautious, but it seemed to me that he was thinking about people and sincerely wanted changes.
The trial of Viktar Babaryka is unambiguously political, and there is no point in delving into the details of the false accusation. For this reason, the process is closed and journalists and people who want to support him are not allowed into the meeting room.
But the tragedy of this situation is not only in another reprisal against the presidential candidate. Again, they are trying to deprive the Belarusians of a leader, a promising politician who can lead the country and bring it to a normal life. All this has already happened: this is how Henadz Karpenka, Viktar Hanchar, and Yury Zakharankao were killed in 1999; this is how they dealt with Aliaksandr Kazulin in 2006 and Andrei Sannikau and Mikalai Statkevich in 2010. In 2020, almost all leaders were behind bars.
People risked their whole lives, the well-being of their wives and children, but have we done everything for them?
But there is a connection between us much stronger than it seems at first glance. It would seem that you or I are not Mikalai Statkevich, not Pavel Seviarynets, not Yauhen Afnahel, not Siarhei Tsikhanouski, not Ihar Alinevich, not Mikalai Autukhovich, and not Viktar Babaryka. But our life is connected by an invisible thread with their lives. Their fate is the future of our country.
Therefore, now it is so important not to repeat the mistakes and indecision of the past but to seek the release of Viktar Babaryka and other leaders from prison. Let's save them - save ourselves.
What is needed for this? Protests in their defense at home and abroad. There is no other recipe but pressure on the impudent government.
I appeal to the Belarusian diaspora. The result of trips and meetings with Western politicians of Tikhanouskaya, NAM, and CC is too small; the personal sanctions imposed are negligible. This means that efforts of all Belarusians abroad are needed. Picket the foreign ministries and parliaments of their countries, demand the introduction of tough economic and financial sanctions against the fascist regime of Lukashenka, the expulsion of the dictator's ambassadors from democratic states, and the immediate release of all those arrested and convicted for protests against the rigging of elections in Belarus.
The system is already crumbling, former officials who have served faithfully for decades are fleeing to the West, security officials are leaving. If it is true that the fourth department of the KGB has been disbanded (an analog of the fifth department of the KGB of the USSR), then some of the special services have already gone against Lukashenka.
The dictator, as shown by his collective-farm gathering stylized as a congress of the CPSU, has finally lost touch with reality. It will be enough to have serious sanctions or some major outbreak of discontent in the capital - a strike or a mass protest - for the regime to fall.
The main thing is to believe in ourselves. The dictatorship will inevitably collapse.
Natallia Radzina, editor-in-chief, Charter97.org